"Let It Be"
Staff member

Messages

54,755
Fanatics Cash
Points

8,042
5-star DE/TE Nyck Harbor apparently unfazed by Gamecock's blowout loss Saturday​
SPORTSTALK
/ September 19, 2022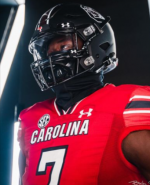 Coach Beamer used the backdrop of the biggest home game of the season Saturday to host the highest acclaimed recruit on the Gamecock board, 5-star
DE/TE Nyck Harbor
of Washington, DC. Beamer must have felt the risk of losing big to the defending national champions in front of a major prospect would be outweighed by the experience he would have with a loud, supportive crowd inside Williams-Brice Stadium. Beamer rolled the dice, and they came up seven.
"He said everything was great," Archbishop Carroll head coach Robert Harris said Sunday night after talking with Harbor for about ten minutes. "He said the atmosphere was great. He said he loved his visit. He got to talk to some academic folks. He said the visit was really first class. He was excited about the crowd, the fanbase, the support that the school has and the academic environment."
Asked if the one-sided loss to the Dogs made the Gamecocks damaged goods in Harbor's eyes, his coach replied, "No. We had talked about it before, but he was really amazed at the fanbase. I told him they have one of the greatest fanbases in the country. He got to see it firsthand. Even in a loss, he said, the fans were great. Everybody was receptive. He said he felt like everybody knew that he was there, and they received him well. He felt great about the visit."
This coming weekend Harbor will take his official visit to Michigan, leaving Washington Saturday morning. Harris said Harbor does not have any other official visits scheduled at the moment. The other schools on his short list are Georgia, LSU, Southern Cal, Maryland, and Miami.
Harris said Harbor does not have a decision date. Thar could come at one of two January all-star games, Under Armour or Polynesian, or he might hold off until the February signing day.
COACH BEAMER ON RECRUITING SATURDAY
Head coach
Shane Beamer
was proud of the atmosphere that was created inside Williams-Brice Stadium on Saturday and said it resonated with recruits.
"Want to thank our fans again for the atmosphere that they created," Beamer said in his weekly teleconference on Sunday night. "As soon as that game was over, we immediately went right back to recruiting.
That is all the recruits could talk about after the game was the atmosphere. Had dinner last night at a restaurant here in Columbia with two recruits that were here on their official visits and their families. That was all they could talk about when we were at dinner last night.
"I was in my office this morning at 8 a.m. for a meeting with a recruit and did that throughout the morning. That is what constantly came up in my meetings starting this morning at 8 a.m. Want to thank the fans for the atmosphere that they created, that was amazing and had a mom tell me, she has been to a bunch of college football games, she has never been a part of an environment like the one that our fan base created. We appreciate that."
Last edited: