"Let It Be"
Staff member

Messages

55,815
Fanatics Cash
Points

12,889
Finnish teammates strong on Gamecocks following visits​
SPORTSTALK
/ March 28, 2023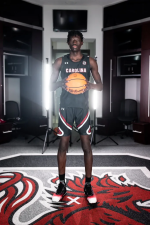 Teammates 6-4 Morris Ugusuk and 6-9 Okku Federiko of Omnia Basketball Academy in Finland wrapped up their official visits to USC Tuesday. It was the second visit for both to USC. Ugusuk said afterwards both he and Federiko feel good about the Gamecocks, but neither has committed at this point.
"The coaching staff was awesome," Ugusuk wrote in a DM about what what stood out the most to him on the trip.
Ugusuk has also taken official visits to Oklahoma State and Duquesne. He's also been offered by Pitt, where Federiko's brother plays. Federiko has also taken an official visit to Duquesne. He also has offers from Pitt and Syracuse.
These official visits followed two others over the weekend in Dayton transfer 6-10 Mustapha Amzil and Minnesota transfer 6-4 Ta'Lon Cooper.
John Whittle of TheBigSpur reported 6-8 Citadel transfer Stephen Clark came in for an official visit starting on Monday.