"Let It Be"
Staff member

Messages

55,815
Fanatics Cash
Points

12,889
The latest from Lexington guard Cam Scott, including a commitment timeframe Gamecocks​
SPORTSTALK
/ May 5, 2023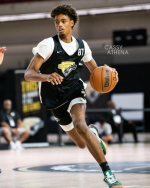 6-4
Cam Scott
of Lexington has been one of the heaviest recruited prospects in the country going on two years now. His offer list includes USC, Clemson, LSU, Tennessee, Miami, Alabama, Missouri, Oregon, Florida State, Auburn, Pitt, Georgetown, Texas and Kansas.
Last year, he narrowed his list to USC, Tennessee, Kansas, Florida State, Auburn and Texas. He also made official visits to USC, Auburn and Texas, and unofficial visits to Duke and Tennessee.
Scott said Thursday night, following an in-home visit from Alabama coach Nate Oates, there was a time earlier this year that he and his family thought they were ready to move forward with a decisoin.
"Honestly, there were two or three teams I was going to," Scott said. "Texas was one of them. South Carolina was one. And I believe at the time the other one was Auburn. Those are the three schools that I was really locked in on at that moment. It was a hard tie between South Carolina and Texas. Then, the season went on and coaching changes happened. We were planning on doing a public commitment sometime before AAU and after school ball, but then coaching changes were going on. My parents mentioned the Transfer Portal and seeing where coaches are going to be following the year, so we just waited it out, saw what was going on and saw the changes that were being made."
And with that, Scott and his family reversed their plans and decided to let things play out a little longer.
"Me and my family decided to open back up my recruitment because I'm locked in on the moment," Scott said. "With all the continuous sports going on back-to-back to back-to-back, we didn't want to have to lose focus on that to make a decision. We are going to focus on making the decision towards the end of Peach Jam (July 3-9)."
Scott has an off weekend on the AAU circuit this weekend. There's an event in Dallas on May 12th and one in Memphis two weeks later. In last weekend's event in Phoenix, Scott averaged 14 points and 6 rebounds per game. Around his basketball schedule, Scott plans to work in some more official visits.
"Me and my f